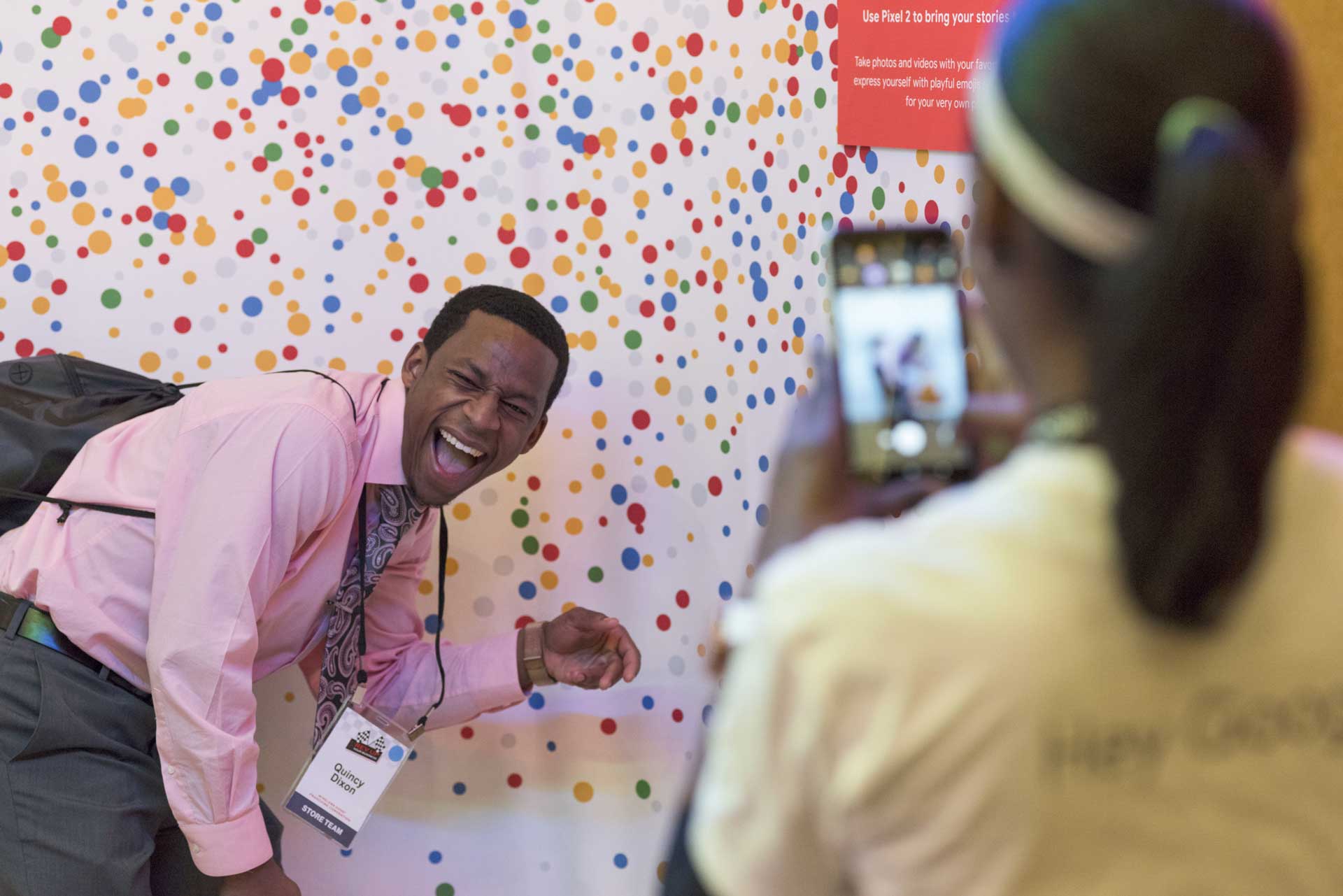 we capture moments in a brand experience that make people smile
This is applicable for the brand experiences that you produce as well as the brand experience we create in our partnership. We are committed to collaborating with you based on our Core Values:
Core Values
create lasting impressions
Through the impactful service we are committed to providing our clients, the emotional response that we elicit through the content we produce and the relationships we maintain within the organization.
Operate like a duck; our hustle propels us forward while we glide with grace above water
Our internal drive and motivation keeps us continually pushing forward; whether on projects, innovation or growth. We make every effort to ensure that the process is positive and smooth along the way.
Communicate With honesty, Authenticity and purpose
Real communication that is meaningful in approach as well as practice propels us toward effective action, keeps the momentum strong, and results in authentic relationships.
Never settle
We operate with a solution-based mentality, which means there is always an opportunity to do more in every facet of the business.
Work wholeheartedly
In everything we do collaboratively and independently, we give it our all. We follow through by creating intentions and acting upon them. If we slip, we own up and create a plan for how to move forward.
VISIBLY CONSISTENT
Consistency is the common thread that ties O Hello Media together. It means we execute at the highest level of service and deliver quality product output every time. In all interactions with clients or colleagues, consistently is how we always show up.
Taryn Covrigaru
Founder & CEO
Taryn founded O Hello Media in January of 2015 after spending 4 years working for experiential marketing agency, Match Marketing Group. In her role as account manager and creative strategist, she culled together the experience that ultimately enabled her to develop and launch O Hello Media. Her entrepreneurial spirit began at a young age; and while her chocolate covered oyster cracker concept, CHOYS, or scrapbooking business, Scrapples, never took off, the creativity, dedication & passion have carried her into her current role as Founder & CEO of O Hello Media. When she's not wearing her many hats at the office, you can find this Chicago native adventuring with her family in beautiful Colorado.
Helen Heffner
Creative Director
Avid Netflix watcher, yoga enthusiast and design geek - Hailing from Houston, TX, she moved to Colorado to attend CU Boulder and finally became a permanent Denver resident 5 years ago. With a degree in Studio Arts from CU, Helen utilizes her skillset to help O Hello Media take client's content to the next level. When she's away from work, you can find her painting in her studio, spending time out in the garden, and enjoying wine with friends.
Piper Rastello
Project Manager
Piper is your Project Manager! Originally from Boulder, Colorado, she has spent the majority of her life traveling the globe and working as a full-time photographer.
Piper is constantly in awe of the beauty of her home state and spends the majority of her weekends taking photos while exploring the Colorado landscape, enjoying live music or planning her next foreign adventure!
OUR GLOBAL NETWORK OF PHOTOGRAPHERS & VIDEOGRAPHERS
the team who captures your moments
Our core focus on live documentation for brand activations enables us to build a team of content creators that aligns accordingly. We have a global network in place specifically to support the experiential industry, as it provides a turnkey and cost effective solution for the events you activate all across the globe.
All team members go through an in-depth vetting and training process to ensure they fit the qualifications and standards we expect, including having the appropriate gear.